Knowledge Base will allow you to create articles and save valuable information so your end-users will be empowered to share and find various resources. Based on permissions, articles will all be viewable within the Knowledge Base to any licensed user of iDashboards. However, you can also embed an article into the frame of a dashboard for specifically sharing a piece of information along with your charts and graphs. Articles are saved in the hierarchy of your choice, supporting formatted text, images, dashboard links, etc.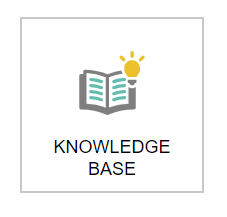 Log into iDashboards as Administrator

You Click on the

Knowledge Base Icon

You are taken the the

Articles Page.

However, did you notice, there are NO ARTICLES?! What?!

We can't have no Articles for a Knowledge Base.

So we click on the

Create

button

Which then brings us to the New Article Page

Let's Take a Closer Look at the

New Article Page,

we have options!

Article Title
Article Content
Home brings you back to the Articles Page
Knowledge Base Toolbar includes (left to right): Save , Cancel , Add, Copy, and Properties

Save which saves your article, after saving it turns into Edit
Cancel which brings you back to the Articles Page

after saving, this turns into delete

Add which turns your article into a Parent Article and creates a Child Page for the Parent Article
Copy which copies the whole article
Properties which opens a box with the article properties such as:

Article ID

,

Child Articles

,

Pin Article

,

Allow Article Comments

,

Parent Article

,

Application

,

Language

,

Reset Votes

, and

Permissions

.

Refresh

, just refreshes the article to find

Child Articles

Pin Article

allows it to be Pinned to the top of the Articles Page
You can choose to Allow or Disable Article Comments
You can choose a Parent Article
You can choose if you want it on the dashboards application, scorecards application or both applications
You can select your language, currently English
Reset, resets the article vote count
Permissions, allow you to set which groups can view the articles, and choose if you require authentication to view.

Link an Article to a Particular Dashboard
Add Tags to Make Finding Articles Easy for Viewers

So once you have content the top of the Article Page Should look similar to this: The bottom of the Article will look similar to this:Then your Articles Page will Look Similar to this if You have Pinned Articles, otherwise they will appear with out the Pin icon.
For more information please see our v11.2 manuals or later.