05/03/2021
v11.1 includes a major product change which introduces the all-new Page Manager. This feature has two primary functions: the ability to create multiple-page dashboards, and the ability to create a mobile-specific experience!
Version Patches
v11.1a (05/03/2021)
v11.1b (05/03/2021) (no release notes, fixed installation bugs)
v11.1c (05/06/2021) (no release notes, fixed installation bugs)
New Features
New Page Manager

New Multiple Page Dashboards: When you run out of space on your dashboard but want an easy way to add more pages and navigate forward/backward between pages, this feature is for you! At the click of a button, add an additional page to your dashboard and utilize the built-in navigation options to move between pages. Additionally, you can create new pages by copying an existing page.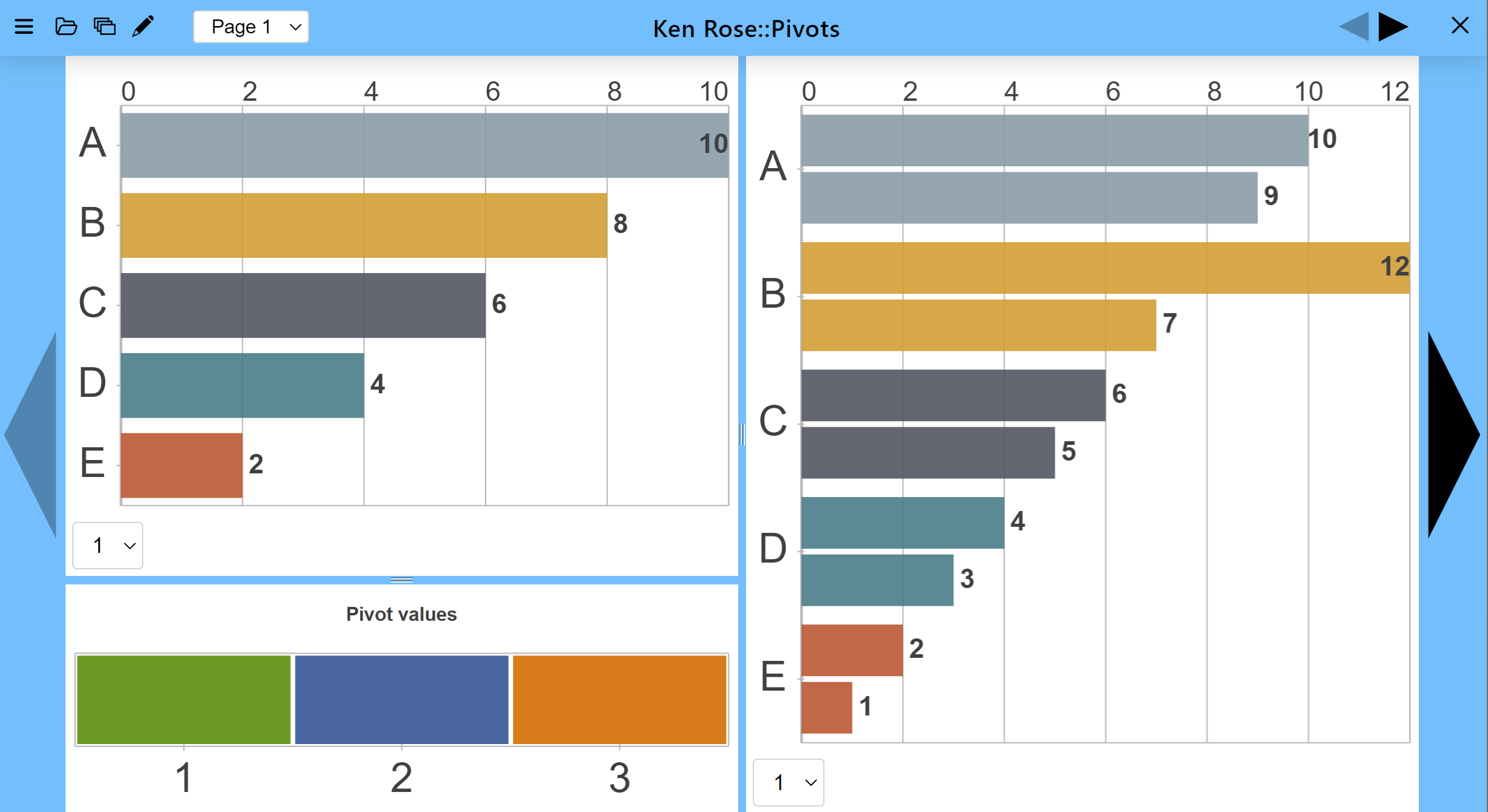 New Mobile Dashboard Designer: To fully customize the mobile experience requires custom built dashboards. This product improvement will allow a dashboard to have desktop and mobile layouts that automatically switch based on the device type AND delivers a fully customized dashboard experience for mobile that is independent from the desktop version of the same dashboard. And multiple pages is function for mobile designs too!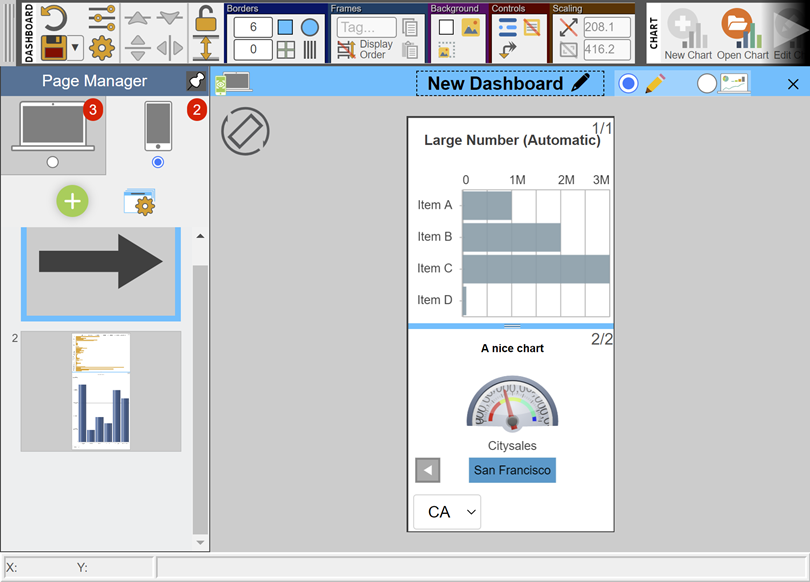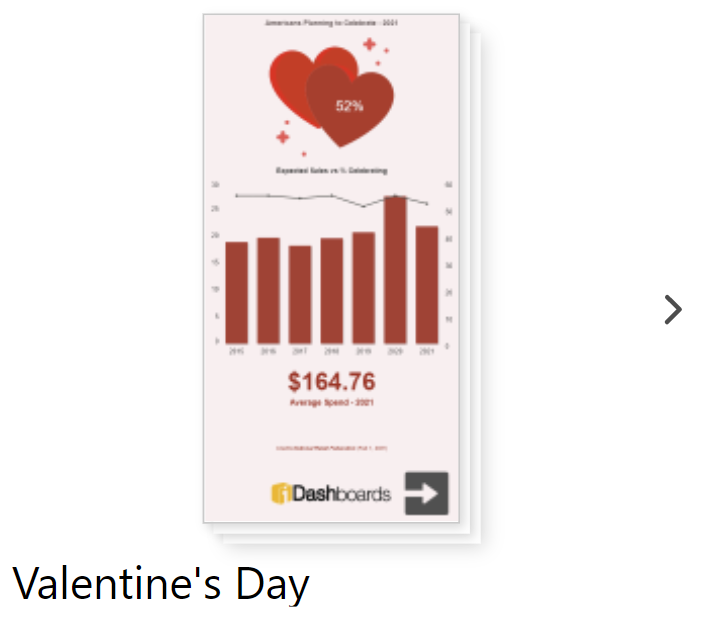 Dashboard Launcher: In addition to having a text list and thumbnail grid of dashboards, this feature will place thumbnails on a 3D Thumbnail wall (panoramic!).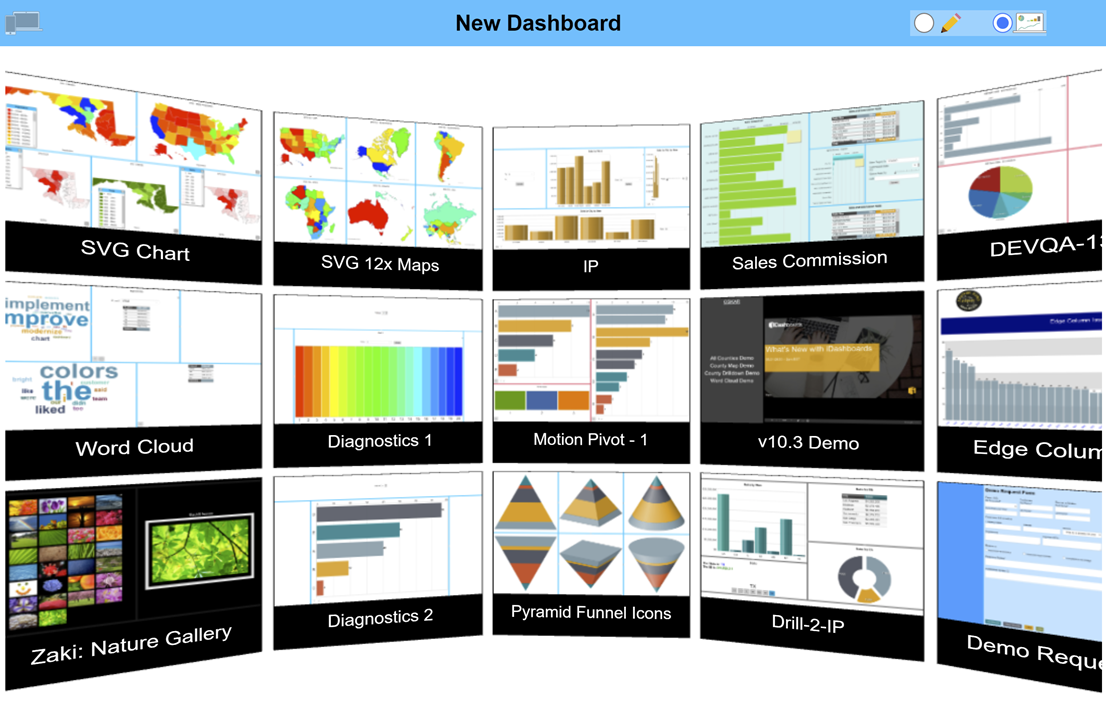 Copy & Paste: The Dashboard Designer now has the ability to copy & paste between frames! This feature works with whatever item is within a frame (charts, images, text, or any panel app!). Use this to save time when designing single-page dashboards or use this to really enhance your ability to design multiple-page, or mobile dashboards.

New toolbar icons

: Copy, Paste

New keyboard shortcuts

: CTRL-C, CTRL-V

Chart(s):

New 3D Carousel: A new 3D Carousel chart will be nearly the same as the 3D Image Chart "Cylinder Surround" but will have a unique labeling option.

Input Parameters > Maximum Length: Has been increased from 50 to 500
Product Updates and Bug fixes
Fixed an error when a picklist contained a date column and a single quote (') was used in the custom formatting
Fixed an error when editing a parameter - If the parameter was using the control type Picklist, and the Control Type dialog was re-opened, the parameter type would incorrectly change to Values
Fixes an issue where the Public Access account (guest user) would not all the case of dashID within the URL if used by a mobile device. Additionally, we removed the case sensitivity for using ID or Id for both

dashID

and

chartID

options.
Metrics Chart: Fixed a problem where shape colors didn't work on mobile
Horizontal Bullet Chart: Fixed a problem where a small frame triggered a console error
Chart Designer: When charts use Create Data as a data set, a problem was fixed when data would not appear after editing a chart and adding columns with data
Fixed a problem within the Data Hub regarding the task Change Data Type
Fixed a problem where the Speedometer chart theme Hot Rod was missing from the dropdown list, in spite of the theme being actively applied to existing charts
Fixed an issue on mobile where the dashboard counts would not update after a search was performed
Fixed an issue where changes to the Common Authentication URL did not update the redirect URL in the Connected App.
Fixed an issue where Common Authentication was not saving the option to Allow untrusted certificates...
Upgrading
On-Premise
To upgrade use the Product Download Site to download the product media (for new clients, you will download the Production Installer.) If you have used the Product Download Site in the past, you will use the same credentials. If you have not, please contact your Client Success Manager and we can help you obtain your credentials. The credentials are often found in your license update emails, beneath the licensing information, you will see download URL, username, and password.
Hosted
If you have a hosted subscription with iDashboards, your instance will be updated in coordination with your Client Success Manager.