10/03/2019
v10.1 marks the first major release since the release of NextGen (see 05/30/2019: v10.0 Enterprise Release Notes). Referring to the v10.0 release notes, you will see these features come directly from the roadmap notes.
The largest feature of this release is Alerts. Utilizing rules and schedules, you set the conditions to monitor on a chart and Alerts will notify users when those criteria have been met. This release also includes 6-new charts. All of these charts have been seen before in our legacy Flash-based application, but now they're here in our HTML version of iDashboards. A new rich-text editor will help improve dashboard text panels, and not just for formatted text, but for tables, links, and more. Another great improvement was the dashboard thumbnail when opening a dashboard. Other improvements include a chart scrollbar, update chart icons and more.
Version Patches
NOTE: Legacy alerts do not migrate into NextGen alerts. If you have a legacy Alerts server (idbalerts), it is advised to undeploy or stop the service.
Recorded Webinar
New Features
Alerts!

The next generation of Alerts have returned to iDashboards, and they're better than before:

New Alerts builder
New Alerts page

It's beautiful
Search for triggered alerts, or view by severity, or view by chronological order
View a snapshot of the chart at the time the alert was triggered! Then, easily compare the snapshot to the live chart! Additionally, you can view the data, export the data, or view the chart data diagnostics!

New administration console


New alert templates, severities, etc.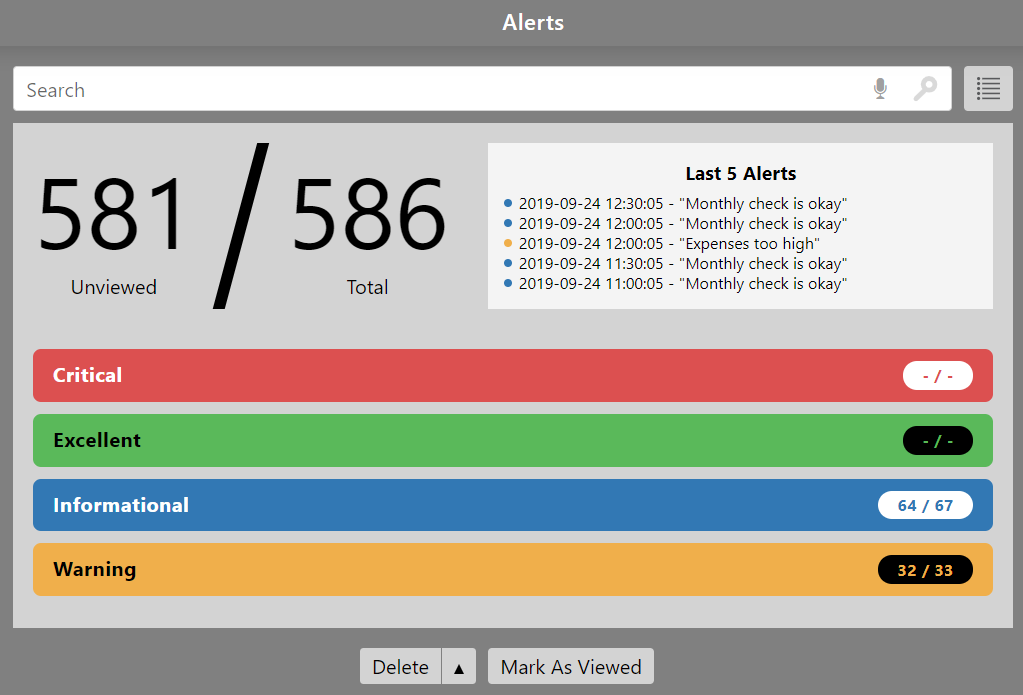 Dashboard Thumbnails

If you are migrating into v10.1, you will need to OPEN and SAVE each dashboard in the Builder interface to generate thumbnails.
Look in the administrative application for thumbnail settings. A new system requirement exists: Google Chrome must be installed on the iDashboards server.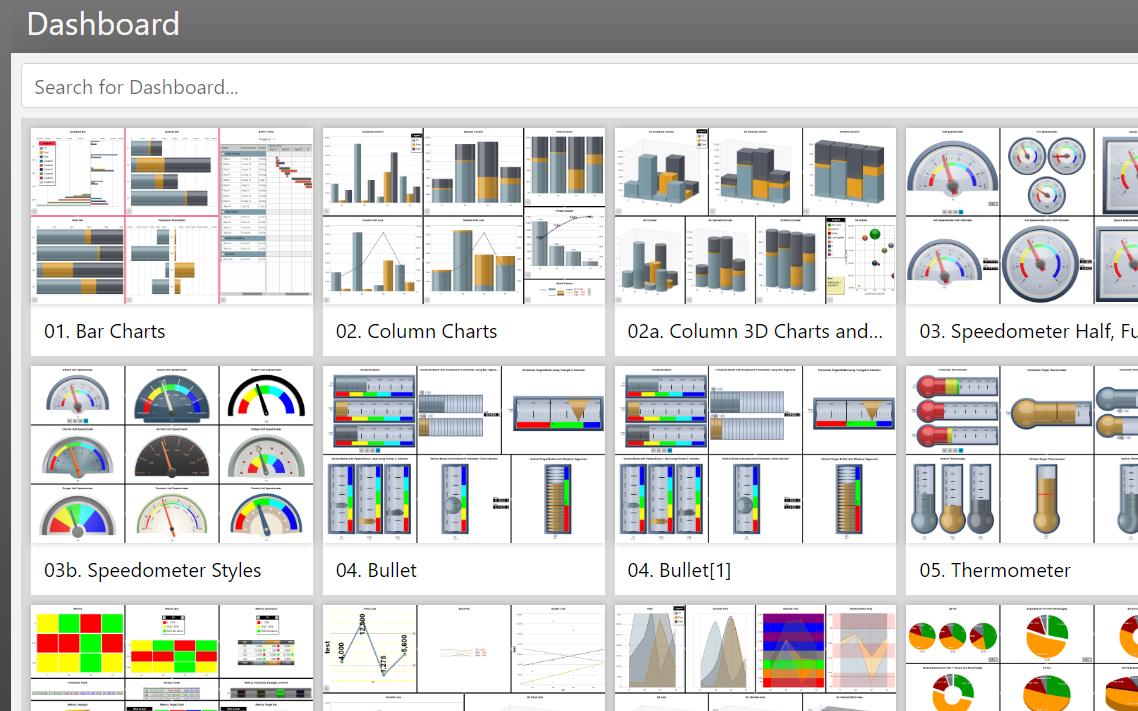 Chart Scrollbar:

Previously known as

Window Dragger

, this chart property allows certain charts to display a reduced number of bars/columns while using the scrollbar to view the remaining values.
Zoom In/Out

+ = increase the number of bars displayed
- = decrease the number of bars displayed
Shift+Click + = Show All
Shift+Click - = Show One

Ctrl+Click Arrow = Page Up/Down
Click Scrollbar Track = Page Up/Down
Shift+Click Arrow = Scroll Home/End
Ability to set the

Initial View

property

First… and Last… represent which side of the graph should be shown upon the initial load of the chart.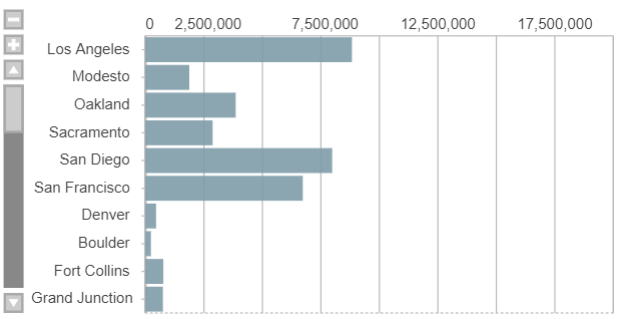 Improved Text Panel: Instead of plain text, an HTML text editor using a WYSIWYG interface has been added. Some options include: Bold, Italic, Underline, Style, Justification, Hyperlink, Image insert, Bullet/Numbered Lists, and much more!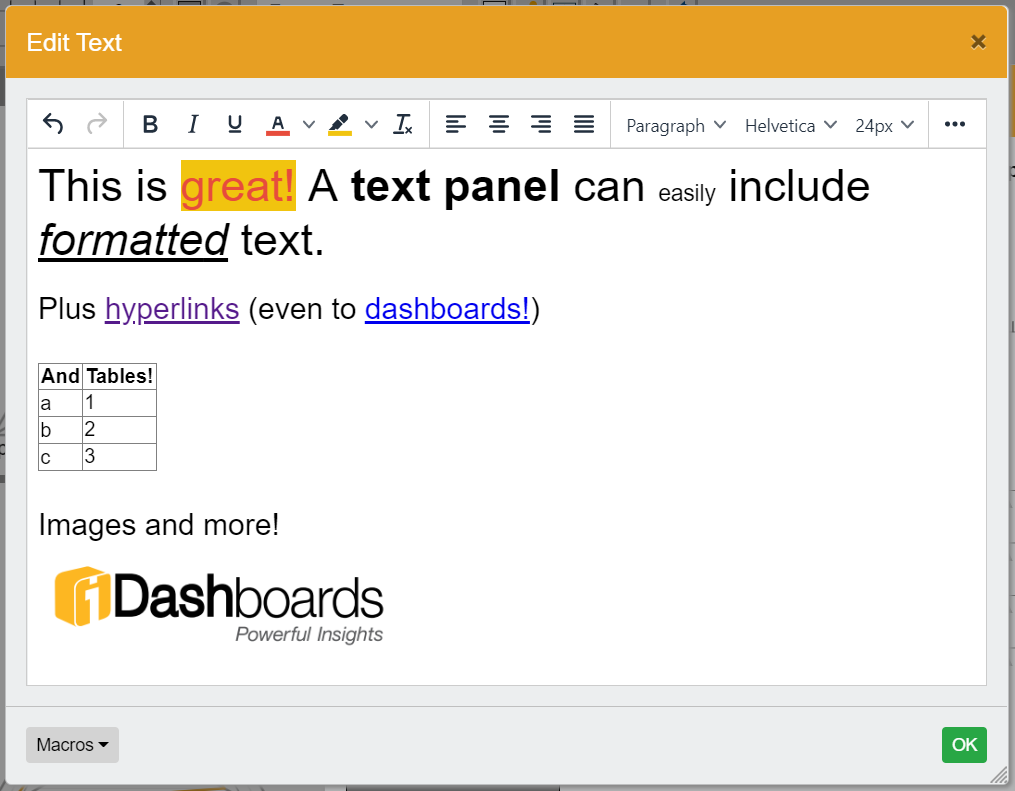 Gantt Chart

A new Gantt chart for project management data sets!

Radar Charts

Five new charts: Radar, Stacked Radar, Ratio Radar, Line Radar, and Dot Radar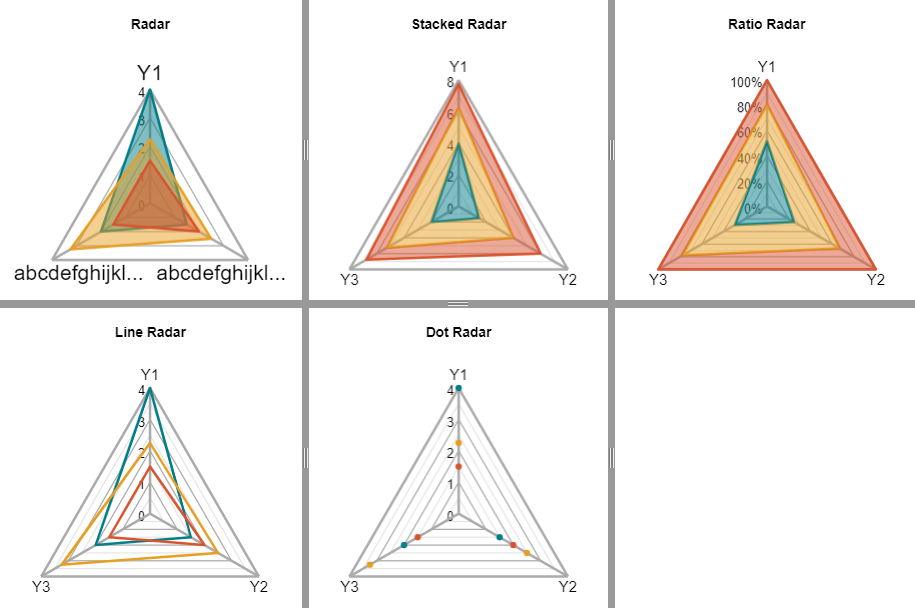 Updated the default properties for new charts!
Improved Chart Icons
Improved chart/dashboard refresh interval
Data Hub

ETL Filter: Now has an Expression based filter option.

ex. $val["Department"] !== "Sales"

Improved scheduler

Bug fixes and performance improvements
Post-Release Roadmap
Review Version Patches section above for additional details
Language packs (post-release of v10.1)
Fall/Winter 2019

Improving the Details Chart with a rich-text editor
Chart Designer Improvements

Improve chart properties and preview interface

Continuous graphics improvements

Dashboard Designer
Dashboard Panel
Chart Properties

New charts

3D Pyramid, 3D Funnel, Candlestick charts

Reports
Upgrading
To upgrade please use the Support Download Site to download the CDROM files, for new clients, you will download the Production Installer. If you have used the Support Download Site in the past, you will use the same credentials. If you have not, please contact your Client Success Manager and we can help you obtain your credentials. It is often found in your license update emails, below the licensing information, you will see download URL, username, and password.
Enterprise Release Notes are created by Development and Updated by the Support Services Team. If you find anything we missed, then please contact iDashboards Support for further assistance and they will update the article.