Issue:
Reports are not available as the same with if you have the chart drilldown to a report when iDashboards is running in embedded viewer mode. If you attempt to drilldown to a report in Embedded Viewer Mode you will receive the following error message: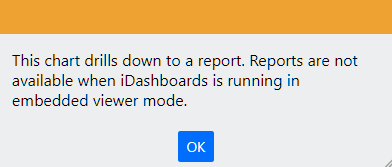 Resolution:
This is an expected error for many users. There are a couple reasons for this
Security Risk: most viewer modes are running from public access accounts. Allowing a public access account to create reports that they can take away from your business could lead to a security issues.
Generating reports is a fairly resource intensive task. The reports are generated on the hosting server and then pushed up to the client. Depending on the server you could quickly overload the server and cause the system to crash, depending on the number of embedded viewer mode logins and the number of reports being run.
For More Information

:
iDashboards Admin Manual15.4 Embedded Viewer Mode

iDashboards Admin Manual 18. Reports
If the above is unable to resolve the issue, then please contact iDashboards Support for further assistance.