This requires being connected to your server.
Issue:
I have an alert configured but the email that comes out does not look nice. By default alert configuration is very basic.
Resolution:
Build out a template to best match the look your organization is trying to display. This will require a very basic knowledge of HTML code for updating.
To update the iDashboards logo with an image of your own replace the URL on line 18 with a web URL of your own image.
To link directly to your dashboard with the Link on the bottom of the email update line 35 with the URL to your iDashboards application.
After all updates are configured place the template.html file into the following location:

<IVIZGROUP HOME>\templates\idbalerts\alerts
This will provide you with a template that can be easily displayed with the data that your alerts are sending out. Attached is a template that will generate this type of output: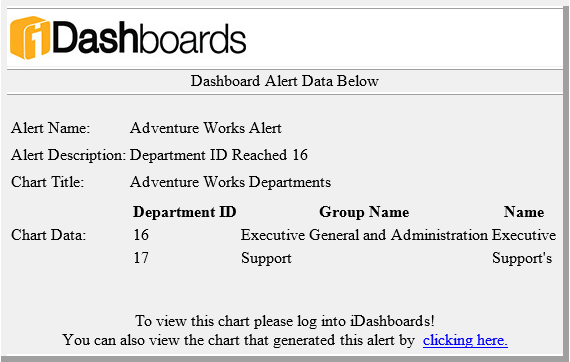 For More Information

:
iDashboards Admin Manual 17. Alerts
If the above is unable to resolve the issue, then please contact iDashboards Support for further assistance.